Ultrasonic Samples Using Diffusion Bonding Techniques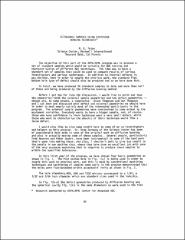 Series
Review of Progress in Quantitative Nondestructive Evaluation
Begun in 1973, the Review of Progress in Quantitative Nondestructive Evaluation (QNDE) is the premier international NDE meeting designed to provide an interface between research and early engineering through the presentation of current ideas and results focused on facilitating a rapid transfer to engineering development.
This site provides free, public access to papers presented at the annual QNDE conference between 1983 and 1999, and abstracts for papers presented at the conference since 2001.
Abstract
The objective of this part of the ARPA/AFML program was to produce a set of standard samples which would be suitable for NDE testing and characterization of different NDE techniques. The idea was to have a standard set of samples that could be used to compare results of various investigators and various techniques. In addition to internal defects it was decided, that in order to couple the previous work, the standard flat bottom hole type of defect should also be produced and so we have done this.
Subject Categories
Collections