Composite Cure Evaluation Using Obliquely Incident Ultrasonic Waves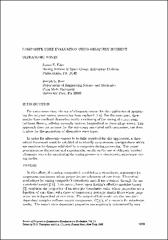 Series
Review of Progress in Quantitative Nondestructive Evaluation
Begun in 1973, the Review of Progress in Quantitative Nondestructive Evaluation (QNDE) is the premier international NDE meeting designed to provide an interface between research and early engineering through the presentation of current ideas and results focused on facilitating a rapid transfer to engineering development.
This site provides free, public access to papers presented at the annual QNDE conference between 1983 and 1999, and abstracts for papers presented at the conference since 2001.
Abstract
For quite some time, the use of ultrasonic sensors for the application of monitoring the polymer curing process has been explored [1–4]. For the most part, these studies have confined themselves to the monitoring of the curing of a neat resin (without fibers), utilizing normally incident longitudinal or shear plane waves. This approach does not account for the anisotropy associated with composites, nor does it allow for the generation of alternative wave types.
Copyright
Sun Jan 01 00:00:00 UTC 1995
Collections