Comparison of Cooperative and Noncooperative Purchasing in School Nutrition Programs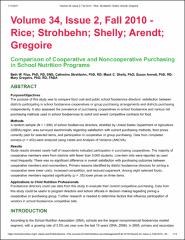 Department
Apparel, Events and Hospitality Management
Abstract
Purpose/Objectives The purpose of this study was to compare food cost and public school foodservice directors' satisfaction between districts participating in school foodservice cooperatives or group purchasing arrangements and districts purchasing independently. It also assessed the prevalence of purchasing cooperatives in school foodservice and various bid purchasing methods used in school foodservices to solicit and award competitive contracts for food.
Methods A random sample (N = 1,650) of school foodservice directors, stratified by United States Department of Agriculture (USDA) region, was surveyed electronically regarding satisfaction with current purchasing methods, food prices currently paid for selected items, and participation in cooperative or group purchasing. Data from completed surveys (n = 453) were analyzed using t-tests and Analysis of Variance (ANOVA).
Results Study results showed nearly half of respondents indicated participation in purchasing cooperatives. The majority of cooperative members were from districts with fewer than 5,000 students. Line-item bids were reported as used most frequently. There was no significant difference in overall satisfaction with purchasing outcomes between cooperative members and nonmembers. Primary reasons identified by district foodservice directors for joining a cooperative were lower costs, increased competition, and reduced paperwork. Among eight selected foods, cooperative members reported significantly (p = .05) lower prices on three items.
Applications to Child Nutrition Professionals Foodservice directors could use data from this study to evaluate their current competitive purchasing. Data from this study could be useful to program directors and school officials in decision making regarding joining a cooperative or purchasing group. Further research is needed to determine factors that influence participation of vendors in school foodservice competitive bids.
Comments
this is an article from Journal of Child Nutrition and Management, Fall 2010; 34(2). Posted with permission.
Subject Categories
Copyright
Fri Jan 01 00:00:00 UTC 2010
Collections