Fulfillment of the employee psychological contract in a healthcare system: Does it drive employee engagement and reduce turnover intention?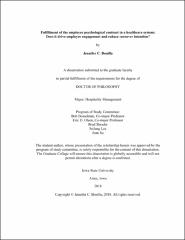 Altmetrics
Department
Apparel, Events and Hospitality Management
Abstract
ABSTRACT
Attracting and retaining talent is a significant differentiator for healthcare companies during this time of growth, transformation, talent shortage, and burnout within the industry. The need to attract and retain skilled workers has spawned the development of strategic talent management functions to drive business performance. Delivering psychological contract fulfillment for employees may be a major differentiator for healthcare employers seeking to deliver business outcomes. Today's multigenerational workforce shows signs of reduced employee engagement and stronger turnover intention, and it is challenging traditional engagement and retention strategies. Scant research has been conducted to support the rationale for fulfilling the psychological contract to deliver business outcomes in a healthcare environment.
The purpose of this project was to evaluate perceptions of a healthcare system's employees to discern whether the impact of employees' psychological contract fulfillment affects business outcomes. Using social exchange theory and evaluating employees' attitudes toward their employer based on the tenets of psychological contract theory, the data analysis was completed using linear regression and a hierarchical multiple linear regression.
The study showed that employees claiming PCF impacted employee engagement, and those with the strongest fulfillment tended to have the highest level of engagement. Engaged, fulfilled employees were less inclined to claim turnover intention. This study provides industry insight into employee perceptions about their employer relationship, and related business outcomes during a time of intense competition for talent, rising compensation and benefits costs for employers, and the need to meet the insatiable expectations of today's disloyal workforce. A company's ability to deliver on employees' PCF is causally linked to higher levels of engagement and the reduction of turnover intention. This should be explored further due to the study's findings that employee engagement is a significant negative predictor of turnover intention. PCF can have a material impact on business outcomes. The research adds to PCF research and related business outcomes in a healthcare system.
Keywords: psychological contract fulfillment, employee engagement, turnover intention, healthcare
Subject Categories
Copyright
Tue May 01 00:00:00 UTC 2018
Collections