An Expert System for Ultrasonic Materials Characterization and NDE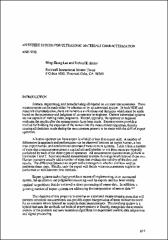 Series
Review of Progress in Quantitative Nondestructive Evaluation
Begun in 1973, the Review of Progress in Quantitative Nondestructive Evaluation (QNDE) is the premier international NDE meeting designed to provide an interface between research and early engineering through the presentation of current ideas and results focused on facilitating a rapid transfer to engineering development.
This site provides free, public access to papers presented at the annual QNDE conference between 1983 and 1999, and abstracts for papers presented at the conference since 2001.
Abstract
Science, engineering, and manufacturing all depend on accurate measurements. These measurements can be made either by a human or by an automated system. In both NDE and materials characterization, there are numerous evaluations and decisions which must be made based on the experience and judgment of an operator or engineer. Current automated systems are not capable of making these judgments. Instead, typically, the operator or engineer evaluates the results after the measurements have been made. Expert systems provide a method for building the expertise of the human into the measurement apparatus, thereby causing all decisions made during the measurement process to be made with the skill of expert operators.
Subject Categories
Copyright
Thu Jan 01 00:00:00 UTC 1987
Collections