Holographic Contouring of Near Crack Tip Displacements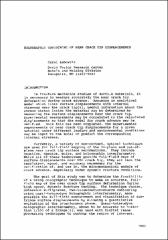 Series
Review of Progress in Quantitative Nondestructive Evaluation
Begun in 1973, the Review of Progress in Quantitative Nondestructive Evaluation (QNDE) is the premier international NDE meeting designed to provide an interface between research and early engineering through the presentation of current ideas and results focused on facilitating a rapid transfer to engineering development.
This site provides free, public access to papers presented at the annual QNDE conference between 1983 and 1999, and abstracts for papers presented at the conference since 2001.
Abstract
In fracture mechanics studies of ductile materials, it is necessary to measure accurately the near crack tip deformation during crack advance. Assuming an analytical model which links surface displacements with internal stresses near the crack tip[1], useful information about the stress states inside the material may be determined by measuring the surface displacements near the crack tip. Experimental measurements may be correlated to the calculated displacements so that the model for crack advance may be verified. Once this has been completed, the experimental measurements of near crack tip displacements for a given material under different loading and environmental conditions may be input to the model to predict the corresponding internal stresses.
Copyright
Sun Jan 01 00:00:00 UTC 1989
Collections