Strategies to Update the Clothing and Textile Course Curriculum with Emerging Technologies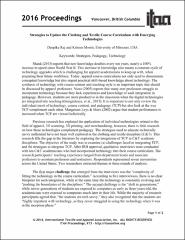 Series
International Textile and Apparel Association (ITAA) Annual Conference Proceedings
The first national meeting of textile and clothing professors took place in Madison, Wisconsin in June 1959. With a mission to advance excellence in education, scholarship and innovation, and their global applications, the International Textile and Apparel Association (ITAA) is a professional and educational association of scholars, educators, and students in the textile, apparel, and merchandising disciplines in higher education.
This site provides free, public access to the ITAA annual conference proceedings beginning in 2015. Previous proceedings can be found by following the "Additional ITAA Proceedings" link on the left sidebar of this page.
Abstract
In this digital age, apparel discipline not only needs to disseminate conceptual knowledge but also impart practical skill-based knowledge about technology. The objective of this research was to examine strategies of integrating technology, content, and pedagogy knowledge in fashion discipline. Ten clothing textile academicians were interviewed and interviews subsequently analyzed to find five such strategies: (1) give confidence to students to problem solve and democratize the belief in creating, (2) incorporate balanced distribution of technological components throughout the course curriculum, (3) have faculties who are technophiles rather than technophobes, (4) use a flipped classroom model to adapt to the learning curves of the students, and (5) be more marketable and visible to attract multidisciplinary based projects. The strategies, which emerged in the research, could give ideas to the academicians to revamp the curriculum based on the changing needs of industry, and nature of their students and professors.
Collections