Computer Simulation of X-Ray NDE Process Coupled with CAD Interface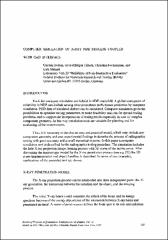 Series
Review of Progress in Quantitative Nondestructive Evaluation
Begun in 1973, the Review of Progress in Quantitative Nondestructive Evaluation (QNDE) is the premier international NDE meeting designed to provide an interface between research and early engineering through the presentation of current ideas and results focused on facilitating a rapid transfer to engineering development.
This site provides free, public access to papers presented at the annual QNDE conference between 1983 and 1999, and abstracts for papers presented at the conference since 2001.
Abstract
Tools for computer simulation are helpful in NDE manyfold. A global conception of reliability in NDE can include among other procedures performance prediction by computer simulation. POD data of simulated defects can be calculated. Computer simulation gives the possibilities to optimize testing parameters, to make feasibility analysis for special testing problems, and to support the interpretation of testing results especially in case of complex component geometry. In this way simulation tools are valuable for planning and for evaluating of the examinations.
Copyright
Wed Jan 01 00:00:00 UTC 1997
Collections