New Applications of Acoustic Emission to Materials Testing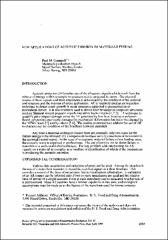 Series
Review of Progress in Quantitative Nondestructive Evaluation
Begun in 1973, the Review of Progress in Quantitative Nondestructive Evaluation (QNDE) is the premier international NDE meeting designed to provide an interface between research and early engineering through the presentation of current ideas and results focused on facilitating a rapid transfer to engineering development.
This site provides free, public access to papers presented at the annual QNDE conference between 1983 and 1999, and abstracts for papers presented at the conference since 2001.
Abstract
Acoustic emission (AE) makes use of the ultrasonic signals which result from the release of energy within a sample or structure as it is subjected to stress. The physical source of these signals and their amplitudes is determined by the condition of the material and structure and the manner of stress application. AE is routinely used as an inspection technique to detect crack growth in metal structures subjected to pressurization or mechanical forces. It is also routinely used to detect fiber breakage in composite structures such as filament wound pressure vessels and utility bucket trucks [1,2,3]. A technique to quantify prior impact damage using the AE generated by low level heating in polymer-based composites previously damaged by mechanical deformation has been investigated by the NSWC team [4] and by others [5,6]. The studies presented here address the use of AE to characterize the condition of the bondlines between materials.
Copyright
Sun Jan 01 00:00:00 UTC 1995
Collections