Microwaves for Raster Imaging of Local Anisotropies in Polymer Materials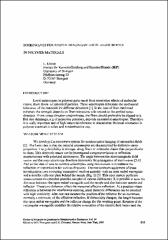 Series
Review of Progress in Quantitative Nondestructive Evaluation
Begun in 1973, the Review of Progress in Quantitative Nondestructive Evaluation (QNDE) is the premier international NDE meeting designed to provide an interface between research and early engineering through the presentation of current ideas and results focused on facilitating a rapid transfer to engineering development.
This site provides free, public access to papers presented at the annual QNDE conference between 1983 and 1999, and abstracts for papers presented at the conference since 2001.
Abstract
Local anisotropies in polymer parts result from orientation effects of molecular chains, short fibers, or imbedded particles. These anisotropies determine the mechanical behaviour of the materials for different directions [1]. In the case of fiber reinforced polymers the strength depends on fiber orientation with respect to the applied stress direction. If one stress direction predominates, the fibers should preferably be aligned to it. But also shrinkage, e.g of molecular polymers, depends on material anisotropies. Therefore it is really important and of high industrial relevance to characterize the local orientation in polymer materials in a fast and nondestructive way.
Copyright
Sun Jan 01 00:00:00 UTC 1995
Collections