Promotion of the Continued Development of Beginning Bee Keepers.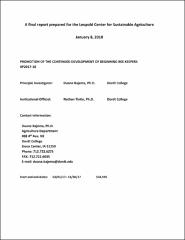 Department
Leopold Center for Sustainable Agriculture
Abstract
The Leopold grant supported a need in northwest Iowa and neighboring states. Beekeeping and pollinator habitat now have presence in the region that did not exist three years ago. A positive outcome of this project is the observed encouragement of beginning beekeepers of one another, social interaction for a common cause, and seeing that they do is making a positive difference in their community.
Collections