The Poet, the Rebel, and the Wardrobe Coat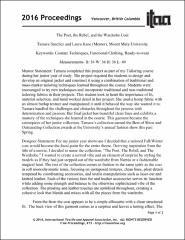 Series
International Textile and Apparel Association (ITAA) Annual Conference Proceedings
The first national meeting of textile and clothing professors took place in Madison, Wisconsin in June 1959. With a mission to advance excellence in education, scholarship and innovation, and their global applications, the International Textile and Apparel Association (ITAA) is a professional and educational association of scholars, educators, and students in the textile, apparel, and merchandising disciplines in higher education.
This site provides free, public access to the ITAA annual conference proceedings beginning in 2015. Previous proceedings can be found by following the "Additional ITAA Proceedings" link on the left sidebar of this page.
Abstract
Drawing inspiration from surrealism and fantastical magical worlds like Narnia, I developed my junior collection titled "The Poet, the Rebel, and the Wardrobe." This jacket forms the focal point of the collection. From the front this coat appears to be a simple silhouette with a clean, structured fit but has back view that comes as a surprise. This garment features a layered capelet in back with a belted & pleated panel, side inseam pockets, a hidden button placket in front, stand collar, and a detachable faux fur stole with a customized faux leather belt attached. Made in a coordinating mix of natural grey hemp and wool tweed, the neutral blend makes for a versatile and chic statement piece. The inside of the coat further serves to delight and surprise with an unexpected interior lining in a silk-like colorful paisley print on a white background and a contrast lace hem finish.
Subject Categories
Collections