Perceptions of Agricultural Educators Entering the Prfession through Alternative Means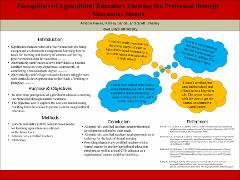 Supplemental Files
Series
Honors Projects and Posters
The Honors project is potentially the most valuable component of an Honors education. Typically Honors students choose to do their projects in their area of study, but some will pick a topic of interest unrelated to their major.
The Honors Program requires that the project be presented at a poster presentation event. Poster presentations are held each semester. Most students present during their senior year, but may do so earlier if their honors project has been completed.
This site presents project descriptions and selected posters for Honors projects completed since the Fall 2015 semester.
Department
Agricultural Education Studies
Abstract
With the continuing national shortage of agricultural educators, alternative certification has become increasingly important. The programs to prepare alternatively certified educators to enter the profession vary in content and length due to state requirements. Alternatively certified agricultural educators tend to struggle more with the curricula development due to their lack of formal pedagogy training. This issue can negatively impact the students' experiences even though alternatively certified teachers possess highly technical agricultural industry knowledge. Effective teachers have many qualities and skills beyond content knowledge, so it is important to determine how alternatively certified educators perceive their careers, their preparation, and themselves. This qualitative study examined the self-reported perceptions of agricultural educators entering the profession through alternative means according to a 2009 content-based model for teaching agriculture by Roberts and Ball. Participants reported regretting not becoming certified sooner. They have always had a passion for youth and agriculture and have loved teaching despite having no plans to teach agriculture after college. Future research should be conducted to determine the areas with which alternatively certified educators struggle most and how to create professional development opportunities and resources that will better suit what these educators need.
Collections