Development of Wide Band Pulser with Step-Function Waveform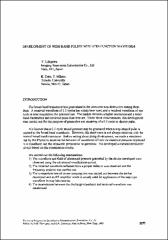 Series
Review of Progress in Quantitative Nondestructive Evaluation
Begun in 1973, the Review of Progress in Quantitative Nondestructive Evaluation (QNDE) is the premier international NDE meeting designed to provide an interface between research and early engineering through the presentation of current ideas and results focused on facilitating a rapid transfer to engineering development.
This site provides free, public access to papers presented at the annual QNDE conference between 1983 and 1999, and abstracts for papers presented at the conference since 2001.
Abstract
The broad band transducer has generalized in the ultrasonic non-destructive testing these days. A received waveform of 1.5 cycles has widely been used, and a received waveform of one cycle is near completion for practical use. The market demands a higher resolution and a wider band transmitted and received pulse than they are. Under these circumstances, this development was carried out for the purpose of generation and receiving of a 0.5 cycle or shorter pulse.
Copyright
Sun Jan 01 00:00:00 UTC 1995
Collections