High Resolution Holographic Contouring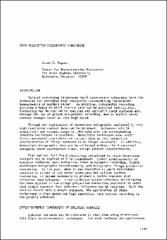 Series
Review of Progress in Quantitative Nondestructive Evaluation
Begun in 1973, the Review of Progress in Quantitative Nondestructive Evaluation (QNDE) is the premier international NDE meeting designed to provide an interface between research and early engineering through the presentation of current ideas and results focused on facilitating a rapid transfer to engineering development.
This site provides free, public access to papers presented at the annual QNDE conference between 1983 and 1999, and abstracts for papers presented at the conference since 2001.
Abstract
Optical contouring techniques which incorporate holography have the potential for providing high resolution noncontacting topographic measurements of surface relief. In addition, holographic recording provides a means by which contour data may be archived indefinitely. Contouring may be applied to specular and optically rough surfaces and, through the use of pulsed holographic recording, may be applied where contour changes occur at very high speed.
Subject Categories
Copyright
Fri Jan 01 00:00:00 UTC 1988
Collections