Stress analysis of welded gusseted frames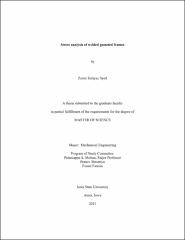 Altmetrics
Abstract
Welded gusseted frame design for fatigue loading is largely not addressed in modern machine design
texts. This research intends to uncover stress solutions for critical locations on welded gusseted frames
so that such a common engineering structure can have design basis. The problem was approached
using static equilibrium relations to populate coefficients of deliberately chosen line stress functions.
The results from that analysis were used in a subsequent fracture mechanics analysis to develop the
singular stress field at a weld toe. The current research resulted in solutions for the two most critical
stress states on welded gusseted frame structures.
Subject Categories
Copyright
Sat Jan 01 00:00:00 UTC 2011
Collections