Ultrasound Contrast Agents: The Advantage of Albumin Microsphere Technology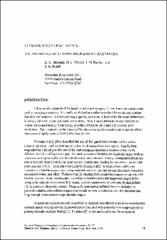 Series
Review of Progress in Quantitative Nondestructive Evaluation
Begun in 1973, the Review of Progress in Quantitative Nondestructive Evaluation (QNDE) is the premier international NDE meeting designed to provide an interface between research and early engineering through the presentation of current ideas and results focused on facilitating a rapid transfer to engineering development.
This site provides free, public access to papers presented at the annual QNDE conference between 1983 and 1999, and abstracts for papers presented at the conference since 2001.
Abstract
Ultrasound evaluation of the heart, or echocardiography, is now the most widely used cardiac imaging procedure. It is well established as a reliable method for evaluating cardiac function and anatomy. Ultrasound image quality, however, is limited by the small differences in density between organ structures in the body. Most tissue interfaces in vivotransmit or scatter ultrasound energy; little energy is reflected back to the transducer causing poor resolution. This situation can be improved by the use of an ultrasound contrast agent, which introduces a highly echo reflective interface in vivo.
Copyright
Thu Jan 01 00:00:00 UTC 1998
Collections