What Shall We Have for Thanksgiving Dinner?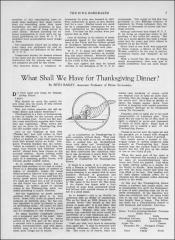 Department
Iowa State University Digital Repository
Abstract
Do you want new ideas for Thanksgiving dinner.
I don't.
Why should we carry the search for new ideas into the menu of this strictly American feast day?
Why not rather preserve the old national dishes and family traditions?
Thanksgiving is a time of homecoming, a time of thanks for the harvest stored for the coming year. Never are the markets more beautifully supplied with fruits nuts and vegetables. What better dinner can we have for Thanksgiving than one like mother used to have?
Subject Categories
Collections