Superconductors, Dislocations and Cracks: Otto Buck Memorial Lecture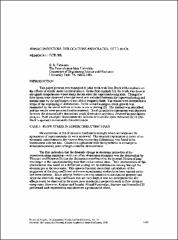 Series
Review of Progress in Quantitative Nondestructive Evaluation
Begun in 1973, the Review of Progress in Quantitative Nondestructive Evaluation (QNDE) is the premier international NDE meeting designed to provide an interface between research and early engineering through the presentation of current ideas and results focused on facilitating a rapid transfer to engineering development.
This site provides free, public access to papers presented at the annual QNDE conference between 1983 and 1999, and abstracts for papers presented at the conference since 2001.
Abstract
This paper presents two examples of joint work with Otto Buck with emphasis on the effects of tensile stress on metal alloys. In the first example [1], the work was done at cryogenic temperatures where many metals enter the superconducting state. Changes in flow stress were observed when the metal was switched between the superconducting and normal state by the application of the critical magnetic field. The results were interpreted in terms of the unpinning of dislocations. In the second example, crack growth was monitored by the use of surface acoustic wave scattering [2]. The method was described and the results were presented and interpreted. Good quantitative agreement was observed between the ultrasonically determined crack dimensions and those observed in post-failure analysis. Both examples demonstrate the innovative scientific spirit characteristic of Otto Buck's approach to materials characterization.
Copyright
Fri Jan 01 00:00:00 UTC 1999
Collections