The interrelationships between speed limits, geometry, and driver behavior: a proof-of-concept study utilizing naturalistic driving data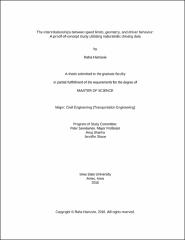 Altmetrics
Department
Civil, Construction, and Environmental Engineering
Abstract
Speed management has been an extensive focus of traffic safety research dating back to the 1960's. Research has generally shown crash risk to increase as the average speed of traffic increases and as the standard deviation of travel speeds increases within a traffic stream. However, research as to the effects of speed limits has been somewhat inconclusive.
This study investigates how speed limits affect driver speed selection, as well as the resultant crash risk, while controlling for various confounding factors such as traffic volumes and roadway geometry. Data are obtained at very high resolution from a Naturalistic Driving Study (NDS) conducted as a part of the second Strategic Highway Research Program (SHRP 2). These data are integrated with a Roadway Information Database (RID), which provides extensive details as to roadway characteristics in the six-state study area (Florida, Indiana, New York, North Carolina, Pennsylvania, and Washington.) These sources are used to examine how driver speed selection varies among freeways with different posted speed limits, and how the likelihood of crash/near-crash events change with respect to various speed metrics.
Regression models are estimated to assess three measures of interest: the average speed of vehicles during the time preceding crash, near-crash, and baseline (i.e., normal) driving events; the variation in travel speeds leading up to each event as quantified by the standard deviation in speeds over this period (i.e. the average acceleration/deceleration rate); and the probability of a specific event resulting in a crash or near-crash based on speed selection and other salient factors.
Significant correlation was observed with respect to speed selection behavior among the same individuals and particularly within a single driving event. Mean speeds are shown to increase with speed limits. However, these increases are less pronounced at higher speed limits. Drivers tend to reduce their travel speeds along horizontal or vertical curves, under adverse weather conditions, and particularly under heavy congestion. Increases in average travel speed and the variability in travel speeds are both found to increase crash risk. Crash risk also increases on vertical curves and ramp junctions, as well as among the youngest and oldest age groups of drivers.
Ultimately, this research provides an important demonstration of how naturalistic driving data may be leveraged to examine driver behavior and research questions of interest that are difficult or impractical through other empirical settings. The results also provide important insights that provide greater understanding of how drivers adapt their speed selection behavior in response to posted speed limits and other roadway characteristics.
Subject Categories
Copyright
Fri Jan 01 00:00:00 UTC 2016
Collections