The Flood: A Blessing in Disguise—Disaster Management of the Leila Old Historic Costume Collection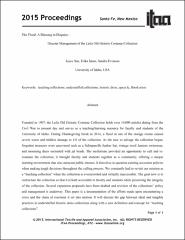 Series
International Textile and Apparel Association (ITAA) Annual Conference Proceedings
The first national meeting of textile and clothing professors took place in Madison, Wisconsin in June 1959. With a mission to advance excellence in education, scholarship and innovation, and their global applications, the International Textile and Apparel Association (ITAA) is a professional and educational association of scholars, educators, and students in the textile, apparel, and merchandising disciplines in higher education.
This site provides free, public access to the ITAA annual conference proceedings beginning in 2015. Previous proceedings can be found by following the "Additional ITAA Proceedings" link on the left sidebar of this page.
Abstract
This paper is a documentation of the efforts made upon encountering a crisis and the chain of reactions it set into motion. It will discuss the gap between ideal and tangible practices in understaffed historic dress collections along with a new definition and concept for "teaching collections".
Collections