Phylogenetics: Which was first, TSD or GSD?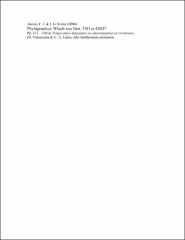 Department
Ecology, Evolution and Organismal Biology
Abstract
The basic challenge of evolutionary biology is to explain variation or the lack thereof, be it phenotypic, genetic, phy· logenetic, spatial, temporal, and so on. To illustrate, one gross generalization is that phenotypic traits we think of as being very important to organisms tend to be highly conserved (e.g .. binocular vision in vertebrates). probably because the genomic and developmental underpinnings are essentially fiXed. Thus, one striking feature about sex-determining mechanisms (SDMs), a fundamental aspect of sexual or· ganisms, is the enormous variety (Bull1983).
Comments
This is a chapter from Temperature dependent sex determination in vertebrates (2004): 121. Posted with permission.
Subject Categories
Copyright
Thu Jan 01 00:00:00 UTC 2004
Collections