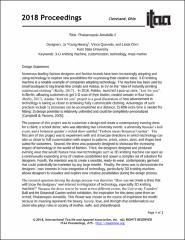 Series
International Textile and Apparel Association (ITAA) Annual Conference Proceedings
The first national meeting of textile and clothing professors took place in Madison, Wisconsin in June 1959. With a mission to advance excellence in education, scholarship and innovation, and their global applications, the International Textile and Apparel Association (ITAA) is a professional and educational association of scholars, educators, and students in the textile, apparel, and merchandising disciplines in higher education.
This site provides free, public access to the ITAA annual conference proceedings beginning in 2015. Previous proceedings can be found by following the "Additional ITAA Proceedings" link on the left sidebar of this page.
Abstract
The purpose of this project was to customize a design and create a contemporary evening dress for a client, a school donor, who was attending two University events: a university founder's ball event, and a botanical garden orchid show entitled Fashion meets Botanical Garden. The aim of this project was to experiment with and showcase directions in which technology can take us closer to full customization with respect to patterns, prints, colors, sizes and shapes best suited for a customer.
Subject Categories
Collections