From Roberts' Subtraction Cutting and Dart Manipulation: Concepts for Patternmaking Theory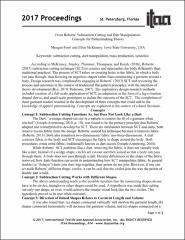 Series
International Textile and Apparel Association (ITAA) Annual Conference Proceedings
The first national meeting of textile and clothing professors took place in Madison, Wisconsin in June 1959. With a mission to advance excellence in education, scholarship and innovation, and their global applications, the International Textile and Apparel Association (ITAA) is a professional and educational association of scholars, educators, and students in the textile, apparel, and merchandising disciplines in higher education.
This site provides free, public access to the ITAA annual conference proceedings beginning in 2015. Previous proceedings can be found by following the "Additional ITAA Proceedings" link on the left sidebar of this page.
Abstract
This exploratory design research focuses on Roberts' subtraction cutting technique and dart manipulation with the intention of adding to the knowledge of apparel patternmaking. Three concepts were explored: Subtraction cutting functioning like a dart; however, not visually looking like one, subtraction cutting can use different shapes, and the direction of the joined subtraction cutting shapes impacts the length and volume of a garment. The implications of these concepts, for manufacturing and pedagogy, are also shared.
Subject Categories
Collections