Importance of Exploratory Writing in Critical Thinking and Learning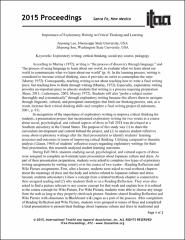 Series
International Textile and Apparel Association (ITAA) Annual Conference Proceedings
The first national meeting of textile and clothing professors took place in Madison, Wisconsin in June 1959. With a mission to advance excellence in education, scholarship and innovation, and their global applications, the International Textile and Apparel Association (ITAA) is a professional and educational association of scholars, educators, and students in the textile, apparel, and merchandising disciplines in higher education.
This site provides free, public access to the ITAA annual conference proceedings beginning in 2015. Previous proceedings can be found by following the "Additional ITAA Proceedings" link on the left sidebar of this page.
Abstract
In recognition of the importance of exploratory writing to improve critical thinking for students, a presentation project that incorporated exploratory writing for two weeks in a course about social, psychological, and cultural aspects of dress in Fall 2014 was developed at a Southern university in the United States. The purpose of this study was (1) to share the curriculum development and content behind the project, and (2) to analyze student reflective essay about exploratory writings after the final presentation to identify students' learning processes and outcomes in terms of improving critical thinking. Utilizing comparative thematic analysis (Glaser, 1965) of students' reflective essays regarding exploratory writings for their final presentation, this research analyzed student learning outcomes.
Collections