Propagation of Elastic Waves in Equiaxed Iron Polycrystals with Aligned [001] Axes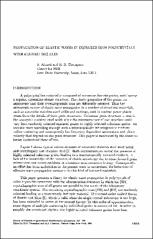 Series
Review of Progress in Quantitative Nondestructive Evaluation
Begun in 1973, the Review of Progress in Quantitative Nondestructive Evaluation (QNDE) is the premier international NDE meeting designed to provide an interface between research and early engineering through the presentation of current ideas and results focused on facilitating a rapid transfer to engineering development.
This site provides free, public access to papers presented at the annual QNDE conference between 1983 and 1999, and abstracts for papers presented at the conference since 2001.
Abstract
A polycrystalline material is composed of numerous discrete grains, each having a regular, crystalline atomic structure. The elastic properties of the grains are anisotropic and their crystallographic axes are differently oriented. Thus the anisotropic nature of elastic wave propagation in a number of structural materials, such as austenitic stainless steel welds and castings, used in nuclear power plants stems from the details of their grain structures. Columnar grain structure is seen in the austenitic stainless steel welds while the microstructure of cast stainless could vary from randomly oriented equiaxed grains to highly oriented columnar grains. An acoustic wave travelling through such a microscopically inhomogeneous medium suffers scattering and consequently has frequency dependent attenuation and phase velocity that depend on the grain structure. This paper is motivated by the desire to better understand these effects.
Subject Categories
Copyright
Tue Jan 01 00:00:00 UTC 1991
Collections