Initiatives for Enhancing the Capability of NDE Engineers: An Indian Perspective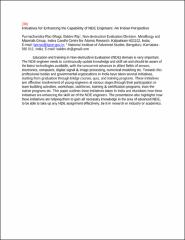 File
Series
Review of Progress in Quantitative Nondestructive Evaluation
Begun in 1973, the Review of Progress in Quantitative Nondestructive Evaluation (QNDE) is the premier international NDE meeting designed to provide an interface between research and early engineering through the presentation of current ideas and results focused on facilitating a rapid transfer to engineering development.
This site provides free, public access to papers presented at the annual QNDE conference between 1983 and 1999, and abstracts for papers presented at the conference since 2001.
Abstract
Education and training in Non-destructive Evaluation (NDE) domain is very important. The NDE engineer needs to continuously update knowledge and skill set and should be aware of the latest technologies available, with the concurrent advances in allied fields of sensors, electronics, computers, digital signal & image processing, numerical modeling etc. Towards this professional bodies and governmental organisations in India have taken several initiatives, starting from graduation through bridge courses, quiz, and training programs. These initiatives aim effective involvement of young engineers at various stages through their participation in team-building activities, workshops, taskforces, training & certification programs, train-thetrainer programs etc. This paper outlines these initiatives taken in India and elucidates how these initiatives are enhancing the skill set of the NDE engineers. The presentation also highlights how these initiatives are helping them to gain all necessary knowledge in the area of advanced NDE, to be able to take up any NDE assignment effectively, be it in research or industry or academics.
Subject Categories
Collections