Integrated Bioassays for Screening Chemical and Biological Species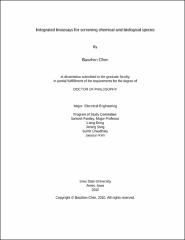 Altmetrics
Department
Electrical and Computer Engineering
Abstract
The idea of having an entire biological assay system on a single silicon wafer is promising with significant advantages in improving experimental throughput and sensitivity. This thesis presents three unique biological assays combining microfluidics and microelectronics technologies for high-throughput screening of biological samples: electronic sensors for detecting biomolecular charges, microchannels to characterize worm locomotion, and modulated trenches for differentiating mutant phenotypes.
The first chapter reports a novel floating-gate biosensor to detect and sense nano-scale charged particles such as charged poly amino acids. The device is fully CMOS compatible and has the ease of mass production. The new architecture of the floating gate enables scaling of the device area and incorporation of on-chip readout lines. Testing results show a strong sensitivity to the polarity and concentration of different poly amino acids tested. CMOS compatibility of the device is particularly useful while designing autonomous systems for biochemical sensing which require the on-chip integration of sensors, control circuitry, memory devices, and power lines.
The second chapter presents microfluidic bioassays for the phenotypic characterization of a certain class of animal and plant microorganisms called nematodes. Nematodes cause huge economic loss every year to agriculture and farm animals. In humans, exposure to meat or crops infected with nematodes cause long-term depression and reduced work productivity. However, with prolonged exposure to anthelmintic drugs, nematodes have evolved into new strains with varying levels of resistance to known drugs. With a goal to differentiate different isolates, the bioassay measures phenotype using parameters of nematode locomotion. We characterize two different species of nematode and two isolates within one species: a plant parasite Soybean Cyst Nematode (SCN) and two isolates of an animal parasite Oesophagostomum dentatum. Parameters of sinusoidal motion such as propagation velocity, wavelength, wave amplitude, and oscillation frequency depend on the levamisole-sensitivity and strain of parasitic nematode. There are significant differences between the two strains (SENS and LEVR) and the two species (O. dentatum and SCN). This microfluidic technology advances present-day nematode migration assays and provides a better quantification and increased drug sensitivity. It is anticipated that the bioassay will facilitate study of resistance to other anthelmintic drugs that affect locomotion.
In the third chapter we report a new scheme to passively screen and sort different isolates of parasitic nematodes that may be visually indistinguishable. Unlike previous devices that immobilize worms or chemically treat them in micro scale chambers, we allow the nematodes to pass through modulated sinusoidal trenches and observe their locomotion at real-time. We then define and characterize locomotion parameters that help us identify and distinguish isolates automatically. We demonstrate this simple scheme of sorting whole animals using two isolates of O. dentatum. In addition, a custom image tracking software is developed to enable automated extraction and analysis of the experiments performed. Such bioassays are critical towards advancing high-throughput screening methods on whole organisms - a field that is relatively new in the scientific community.
Subject Categories
Copyright
Fri Jan 01 00:00:00 UTC 2010
Collections