How to Organize Course Evaluation Components to Optimize Learning Outcome: An Application of Pedagogical Theories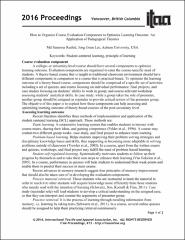 Series
International Textile and Apparel Association (ITAA) Annual Conference Proceedings
The first national meeting of textile and clothing professors took place in Madison, Wisconsin in June 1959. With a mission to advance excellence in education, scholarship and innovation, and their global applications, the International Textile and Apparel Association (ITAA) is a professional and educational association of scholars, educators, and students in the textile, apparel, and merchandising disciplines in higher education.
This site provides free, public access to the ITAA annual conference proceedings beginning in 2015. Previous proceedings can be found by following the "Additional ITAA Proceedings" link on the left sidebar of this page.
Abstract
A college- or university-level course should have several components to optimize learning outcome. Evaluation components are organized to cater the course-specific need of students. A theory-based course that is taught in traditional classroom environment should have different components in comparison to a course that is practical-based. To optimize the learning outcome of a theory-based course, components should be comprised of a specific set of activities including a set of quizzes, and exams focusing on individual performance; final projects, and case studies focusing on students' ability to work in group; and course-relevant workshop assessing students' analytical skills. The objective of this paper is to explain how these components can help assessing and optimizing learning outcome of theory-based courses of the post-secondary level.
Subject Categories
Collections