The T matrix for elastic scattering by a partly closed circular crack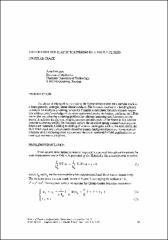 Series
Review of Progress in Quantitative Nondestructive Evaluation
Begun in 1973, the Review of Progress in Quantitative Nondestructive Evaluation (QNDE) is the premier international NDE meeting designed to provide an interface between research and early engineering through the presentation of current ideas and results focused on facilitating a rapid transfer to engineering development.
This site provides free, public access to papers presented at the annual QNDE conference between 1983 and 1999, and abstracts for papers presented at the conference since 2001.
Abstract
The object of this work is to calculate the T (transition) matrix for a circular crack in a homogeneous, isotropic, linear elastic medium. The T matrix method is a building block technique for multiple scattering, where the T matrix is calculated for each scatterer separately without prior knowledge of the other scatterers (cracks, inclusions, surfaces, etc.).This means that we solve the scattering problem for arbitrary incoming time harmonic elastic waves. A solution for the scattering by an open circular crack can be found in [1], and for multiple scattering see [2]. On the crack surface the so called spring contact boundary conditions are assumed, enabling modelling of various cracktypes, such as the open crack, the fluid filled crack and a crack partly closed by a static background pressure. Numerical calculations of the scattering cross sections and the crack-scattered farfield amplitudes for incoming plane waves are given.
Subject Categories
Copyright
Fri Jan 01 00:00:00 UTC 1993
Collections