High Resolution Arma Model Reconstruction for NDE Ultrasonic Imaging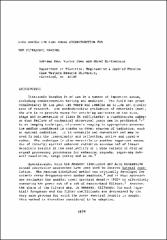 Series
Review of Progress in Quantitative Nondestructive Evaluation
Begun in 1973, the Review of Progress in Quantitative Nondestructive Evaluation (QNDE) is the premier international NDE meeting designed to provide an interface between research and early engineering through the presentation of current ideas and results focused on facilitating a rapid transfer to engineering development.
This site provides free, public access to papers presented at the annual QNDE conference between 1983 and 1999, and abstracts for papers presented at the conference since 2001.
Abstract
Ultrasonic imaging is of use in a number of important areas, including nondestructive testing and medicine. The field has grown considerably in the past ten years and remains an active and growing area of research. For nondestructive evaluation of materials (NDE), the aim is to provide means for obtaining estimates of the size, shape and orientation of flaws in sufficiently a quantitative manner so that failure of mechanical structural parts can be predicted.1,2 As an imaging technique, ultrasonic imaging is appropriate whenever the medium considered is opaque to other sources of radiation, such as optical radiation. It is versatile and convenient and may be used in both the transmission and reflection, active and passive modes. The technique is also versatile in another important sense. Use of (nearly) spatial coherent radiation sources and of linear detectors results in the availability of a wide variety of digital signal processing procedures for enhancing signals, improving lateral resolution, range gating and so on.
Subject Categories
Copyright
Sat Jan 01 00:00:00 UTC 1983
Collections