An Experimental Investigation of Ultrasonic "Grain Noise" in Titanium -6AL-4V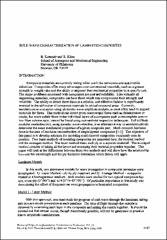 Series
Review of Progress in Quantitative Nondestructive Evaluation
Begun in 1973, the Review of Progress in Quantitative Nondestructive Evaluation (QNDE) is the premier international NDE meeting designed to provide an interface between research and early engineering through the presentation of current ideas and results focused on facilitating a rapid transfer to engineering development.
This site provides free, public access to papers presented at the annual QNDE conference between 1983 and 1999, and abstracts for papers presented at the conference since 2001.
Abstract
Ultrasonic testing is used for the detection of flaws in critical parts, such as forgings in gas turbines[3]. Benign features within the microstructure, such as grain boundaries, also reflect part of the ultrasonic pulse. These signals will generally be of a lower amplitude than flaw signals, since they represent a softer discontinuity in material properties. Figure 1 shows a simplified distribution of such 'grain noise' signals, and a possible distribution of signals resulting from small flaws. Two difficulties arise due to the presence of grain noise: (1) The smallest flaw signals cannot be observed since they are masked by the grain noise. This defines the limiting resolution of the scan. (2) The largest noise signals are mistaken for flaws, leading to 'false calls' and the rejection of sound material.
Subject Categories
Copyright
Mon Jan 01 00:00:00 UTC 1996
Collections