Leadership competencies of branch campus administrators in multi-campus community college systems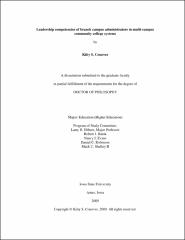 Altmetrics
Department
Educational Leadership and Policy Studies
Abstract
Community college leaders are retiring faster than replacements are being prepared creating what is predicted to be a leadership crisis. To keep community colleges functioning in their critical role of providing wider access to higher education and workforce training and re-training, future leaders need to have the skills to lead complex organizations. To advance community colleges to a level of excellence, future community college leaders need to be prepared to be excellent leaders.
This research project was designed to seek out the skills and abilities needed to be an effective community college leader and to investigate the level of preparedness of the mid-level leadership for career advancements. Using leadership competencies recommended by the AACC Project Leading Forward (2005) for community college leaders, mid-level leaders of community colleges identified as branch campus administrators of multi-campus community college systems had the opportunity to rank the competencies and assess their leadership competency attainment.
The information from this national survey of branch campus administrators may aid individuals in their preparation for advanced leadership opportunities in community colleges. Organizations interested in the number of people in the leadership pipeline have additional information about the potential applicant pool numbers from this career pathway for available positions. College and universities that provide community college leadership through short-term or graduate programs may adjust the curriculum to provide leadership competencies key to these administrators and for their career aspirations.
Preparation factors that made a significant difference in the preparedness were an earned doctorate and participation in formal leadership programs prior to their first branch campus administrator's position. The earned doctorate also made a significant difference in the self-assessed competency as a branch campus administrator.
The AACC Leading Forward Project's Leadership Competencies were found to be appropriate for these mid-level leaders, and overall they had achieved an effective level of competency attainment. Some leadership competency areas that were identified for improvement included four communication skills and financial management and procurement skills and knowledge.
Recommendations for community college leaders and leadership scholars based this study include: recruiting potential leaders for and marketing of formal leadership programs, encouraging and assisting potential leaders to complete doctorate degrees early in their careers, advocating and formulating career plans for intentional career moves, providing leadership experiences in addition to leadership knowledge for aspiring leaders, and creating an environment to encourage leadership development throughout the college's organization.
Subject Categories
Copyright
Thu Jan 01 00:00:00 UTC 2009
Collections