A Discussion of the Inverse Problem in Electromagnetic NDT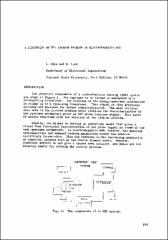 Series
Review of Progress in Quantitative Nondestructive Evaluation
Begun in 1973, the Review of Progress in Quantitative Nondestructive Evaluation (QNDE) is the premier international NDE meeting designed to provide an interface between research and early engineering through the presentation of current ideas and results focused on facilitating a rapid transfer to engineering development.
This site provides free, public access to papers presented at the annual QNDE conference between 1983 and 1999, and abstracts for papers presented at the conference since 2001.
Abstract
The principal components of a nondestructive testing (NDT) system are shown in Figure 1. The specimen to be tested is energized by a transmitting transducer. The response of the energy-specimen interaction is picked up by a receiving transducer. This signal is then processed suitably and analyzed for defect characterization. The most critical step here is the inverse problem which involves the characterization of the specimen parameters given an NDT probe response signal. This paper is mainly concerned with the solution of the inverse problem.
Copyright
Wed Jan 01 00:00:00 UTC 1986
Collections