Comparing Simple and Ordinary Kriging Methods For 2015 Iowa Precipitation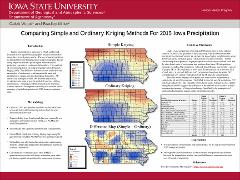 Series
Honors Projects and Posters
The Honors project is potentially the most valuable component of an Honors education. Typically Honors students choose to do their projects in their area of study, but some will pick a topic of interest unrelated to their major.
The Honors Program requires that the project be presented at a poster presentation event. Poster presentations are held each semester. Most students present during their senior year, but may do so earlier if their honors project has been completed.
This site presents project descriptions and selected posters for Honors projects completed since the Fall 2015 semester.
Department
Geological and Atmospheric Sciences
Abstract
The difference between simple kriging (SK) and ordinary kriging (OK) is the reliance on the assumption of stationarity. This study tested the importance of this assumption for creating accurate, continuous maps of Iowa precipitation for 2015. Spatial interpolation is a process in which unobserved locations in a particular geographic region are estimated by using the observed points nearby. Stationarity is defined by the mean and distribution of the data remaining constant. SK relies on this assumption while OK does not. In this study, these predictive tools estimated annual precipitation for unobserved locations across the state from a limited number of observed locations. The inability to measure a variable at all geographic locations is a common problem in the natural sciences. Precipitation maps were produced in ArcMap using SK and OK. In addition, a difference map was calculated to quantitatively compare the estimations made by the two interpolation methods across the study area. Although the difference map does highlight differences in the precipitation patterns estimated by SK and OK, the deviation proves to be minor for the sum of the entire 2015 year. Therefore, the assumption of stationarity had only a slight influence on the spatial interpolation of 2015 Iowa precipitation.
Subject Categories
Collections