Development of a Specialty Crop Harvester and Separation System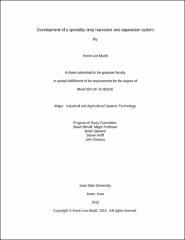 Altmetrics
Department
Agricultural and Biosystems Engineering
Abstract
Mechanization has enabled many crops to be grown on a large scale due to the development and utilization of mechanical crop cultivation, harvesting, and processing technology. However, the development and utilization of specialty crops is commonly obstructed by the lack of harvesting technology available to mechanically harvest the crop. Post-harvest processing of harvested material also poses a challenge for the development of many crops. One such specialty crop that remains under-utilized due to the lack of mechanical harvesting and processing systems is Physalis alkekengi, or Chinese lantern.
Chinese lantern, a herbaceous perennial plant growing to heights of 30 - 110 cm, produces white flowers that result in a papery, inflated sepal that surrounds and encapsulates a berry. This arrangement, consisting of a sepal and berry, known as a lantern, has been identified as an excellent source of carotenoids. These carotenoids exist at a high concentration within the sepal, but not within the berry. A large volume of crop is required in order to realize the opportunities within these carotenoids. In order to be grown as a source of carotenoids, Chinese lantern must be grown over large productions acres with the lanterns harvested and processed mechanically.
This research focused on the development and testing of two systems: a mechanized harvesting system capable of detaching the lanterns from the plant stem and conveying them to a collection container, and a post-harvest processing system capable of separating the sepals from the berry. While several harvesting systems were developed, all were based on the same fundamental stripping method. Results from harvesting systems tests have shown that Chinese lantern can be harvested successfully by utilizing stripping elements and a header specifically designed for the crop. Two separation systems were developed and tested as part of this research work. The results from this testing indicate that the sepals can be separated from the berry at a high efficiency through utilization of a differential drying and abrasion process.
Subject Categories
Copyright
Tue Jan 01 00:00:00 UTC 2013
Collections