Academic Publication Productivity in HDFS Faculty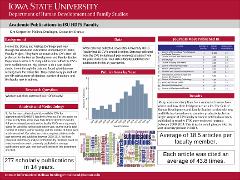 Series
Symposium on Undergraduate Research and Creative Expression
The Symposium provides undergraduates from all academic disciplines with an opportunity to share their research with the university community and other guests through conference-style oral presentations. The Symposium represents part of a larger effort of Iowa State University to enhance, support, and celebrate undergraduate research activity.
Though coordinated by the University Honors Program, all undergraduate students are eligible and encouraged to participate in the Symposium. Undergraduates conducting research but not yet ready to present their work are encouraged to attend the Symposium to learn about the presentation process and students not currently involved in research are encouraged to attend the Symposium to learn about the broad range of undergraduate research activities that are taking place at ISU.
The first Symposium was held in April 2007. The 39 students who presented research and their mentors collectively represented all of ISU's Colleges: Agriculture and Life Sciences, Business, Design, Engineering, Human Sciences, Liberal Arts and Sciences, Veterinary Medicine, and the Graduate College. The event has grown to regularly include more than 100 students presenting on topics that span the broad range of disciplines studied at ISU.
Department
Human Development and Family Studies
Abstract
Within the academy, tenure is granted to professors who demonstrate national prominence in an area of study. How national prominence is measured might range from department to department. At Iowa State, for example, Provost Jonathan Wickeret gave a talk to faculty in 2016 where he mentioned that 2 articles might be enough to achieve tenure in one department, while 20 might be the minimum in another. In short, the disciplinary guidelines, department needs, and individual characteristics all work together to impact successful promotion in, or around, the seventh year.
The Faculty Productivity Project headed by Dr. Doirus at ISU has collected publicly available CVs for every HDFS professor in America (N=509, response rate). All peer-reviewed journals on the faculty CV's were rigorously coded for variables such as publication year, journal outlet, total number of authors, author ranking, and the number of times each article was cited. Our selection criteria required citations to be peer reviewed and published between 2000-2015. For this study, we will examine tenure-track faculty's academic trajectory utilizing their total number of publications and how well each of those publications are cited.
Subject Categories
Collections