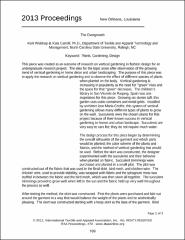 Series
International Textile and Apparel Association (ITAA) Annual Conference Proceedings
The first national meeting of textile and clothing professors took place in Madison, Wisconsin in June 1959. With a mission to advance excellence in education, scholarship and innovation, and their global applications, the International Textile and Apparel Association (ITAA) is a professional and educational association of scholars, educators, and students in the textile, apparel, and merchandising disciplines in higher education.
This site provides free, public access to the ITAA annual conference proceedings beginning in 2015. Previous proceedings can be found by following the "Additional ITAA Proceedings" link on the left sidebar of this page.
Abstract
This piece was created as an outcome of research on vertical gardening in fashion design for an undergraduate research project. The idea for the topic arose after observation of the growing trend of vertical gardening in home décor and urban landscaping. The purpose of this piece was to apply the research on vertical gardening and to observe the effect of different species of plants when planted on the body.
Subject Categories
Collections