Herbicide-resistant weeds: An evolving problem of importance in Iowa crop production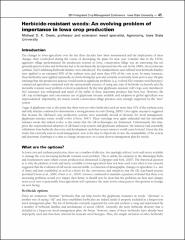 Altmetrics
Series
Proceedings of the Integrated Crop Management Conference
The Iowa State University Integrated Crop Management Conference is Iowa's premier crop production education event. No other program in Iowa brings together the diverse range of topics, slate of expert presenters and results of the latest University research.
The ICM Conference offers workshops focusing on the latest in crop production technology. Experts from Iowa and surrounding states will provide research updates and results in soil fertility, soil and water management, crop production and pest management.
Abstract
The changes in Iowa agriculture over the last three decades have been monumental and the implications of these changes often overlooked during the course of developing the plans for next year.
Subject Categories
Collections