Results of the Phase I Reliability Test on the RFC/NDE Eddy Current Station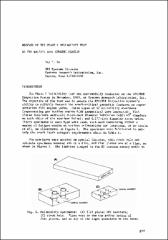 Series
Review of Progress in Quantitative Nondestructive Evaluation
Begun in 1973, the Review of Progress in Quantitative Nondestructive Evaluation (QNDE) is the premier international NDE meeting designed to provide an interface between research and early engineering through the presentation of current ideas and results focused on facilitating a rapid transfer to engineering development.
This site provides free, public access to papers presented at the annual QNDE conference between 1983 and 1999, and abstracts for papers presented at the conference since 2001.
Abstract
The Phase I Reliability Test was successfully conducted on the RFC/NDE Inspection System in November, 1985, at Systems Research Laboratories, Inc. The objective of the test was to ensure the RFC/NDE Inspection System's ability to reliably inspect the crack-critical geometric features on representative F100 engine parts. Three types of EC reliability specimens (representing gas turbine engine disk geometries) were inspected: flat plates (web/bore surface); 0.316-inch diameter boltholes (with 45° chamfers on both sides of the specimen holes); and 0.177-inch diameter rivet holes. Thirty specimens of each type were used, with each containing either a number of fatigue cracks at various orientations and locations, or no cracks at all, as illustrated in Figure 1. The specimens were fabricated to satisfy the crack depth category requirements shown in Table 1.
Subject Categories
Copyright
Thu Jan 01 00:00:00 UTC 1987
Collections