Running water for your farm home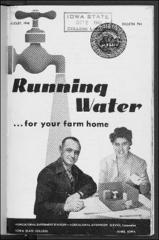 Department
Extension and Experiment Station Publications
Abstract
So you're going to put running water into your house. You're going to make your water system work for you ! Then you are on the right road to modern farm living. Gather your family together and plan for a safe and handy water system.
This booklet will help you settle many questions. It will bring out some ideas you may not have thought about in connection with the uses you will make of this new tool— running water — in your home.
There will be technical questions you will wish to study out, too— the location and capacity of the well, type and size of pump, pipes and plumbing, for instance. For answers to these and other important engineering phases of planning, write for AE-514, "Planning the Farm and Home Water System," available from Iowa State College or from your county extension office. And note other good sources of information listed at the back of this booklet.
Subject Categories
Collections