A Model for the Ultrasonic Scattering from Multi-Branched Cracks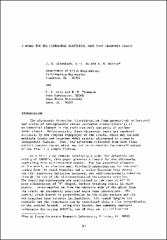 Series
Review of Progress in Quantitative Nondestructive Evaluation
Begun in 1973, the Review of Progress in Quantitative Nondestructive Evaluation (QNDE) is the premier international NDE meeting designed to provide an interface between research and early engineering through the presentation of current ideas and results focused on facilitating a rapid transfer to engineering development.
This site provides free, public access to papers presented at the annual QNDE conference between 1983 and 1999, and abstracts for papers presented at the conference since 2001.
Abstract
The ultrasonic detection (discrimination from geometrical reflectors) and sizing of intergranular stress corrosion cracks (IGSCC's) is an essential element in the continued safe operation of nuclear power plants. Unfortunately, these ultrasonic tests are rendered difficult by the complex topography of the cracks, which may include multiple facets and branches which scatter ultrasound in a nearly independent fashion. Thus, the waveforms reflected from such flaws exhibit complex shapes which may not be related to the overall extent of the flaw in a simple fashion.
Subject Categories
Copyright
Tue Jan 01 00:00:00 UTC 1985
Collections