Model-Based Flaw Reconstruction and Flaw Parameter Estimation Using a Limited Set of Radiographic Projections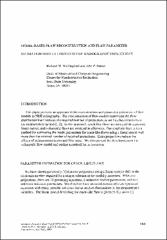 Series
Review of Progress in Quantitative Nondestructive Evaluation
Begun in 1973, the Review of Progress in Quantitative Nondestructive Evaluation (QNDE) is the premier international NDE meeting designed to provide an interface between research and early engineering through the presentation of current ideas and results focused on facilitating a rapid transfer to engineering development.
This site provides free, public access to papers presented at the annual QNDE conference between 1983 and 1999, and abstracts for papers presented at the conference since 2001.
Abstract
This paper presents an approach to the reconstruction and parameter estimation of flaw models in NDE radiography. The reconstruction of flaw models rather than the flaw distribution itself reduces the required number of projections as well as the complexity of the measurement system [1,2]. In this approach, crack-like flaws are modeled as piecewise linear curves, and volumetric flaws are modeled as ellipsoids. Our emphasis here is on a method for estimating the model parameters for crack-like flaws using a linear model with more than the minimal number of required projections. Extra projections reduce the effects of measurement errors and film noise. We also present the development of the volumetric flaw model and outline a method for its inversion.
Subject Categories
Copyright
Mon Jan 01 00:00:00 UTC 1990
Collections