Detection of Porcine Reproductive and Respiratory Syndrome Virus (PRRSV) in oral fluid specimens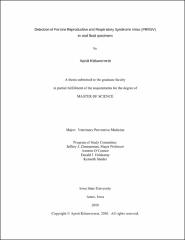 Altmetrics
Department
Veterinary Diagnostic and Production Animal Medicine
Abstract
understanding the behavior of pigs can provide useful information regarding the type and function of pig behaviors, their range of choices, and their response to the environment. This information should be used to provide a foundation upon which to build a better environment for pigs therefore improving production. A significant part of the work described in this thesis involved studying the exploratory behavior of the pig for the purpose of developing oral fluid-based diagnostic methods for use in monitoring and surveillance of infectious diseases. Because it is based on natural pig behavior, oral fluid sampling offers an "animal friendly" method to collect diagnostic specimens.
The objective of the first study was to determine whether individually-housed mature boars could be trained for oral fluid collection. The objective measures used to evaluate the success of this project were the rate of successful collections and the quantity of sample collected. Three trials of 24 boars each (6 months to 3.6 years in age) were conducted to determine if oral fluids could be collected from individually-penned adult animals. Among 70 trained boars, 524 samples were collected in 560 attempts (93.6%) over an 8-day observation period. Statistically significant differences in sample volume were associated with observation day, boar age, and for the interaction of trial x day, but not with trial or the interactions of boar age x trial or boar age x day.
The objective of the second study was to determine whether oral fluid samples could be used to monitor individually-housed adult boars for porcine reproductive and respiratory syndrome virus (PRRSV) infection. In 3 trials, 24 boars were intramuscularly (IM) inoculated with a modified-live PRRSV (MLV) vaccine (Trial 1), a Type 1 PRRSV isolate (Trial 2), or a Type 2 isolate (Trial 3). Oral fluid samples were collected daily and serum samples were collected twice weekly. Following the completion of the study, samples were randomized and blind-tested for PRRSV by real-time quantitative reverse-transcription polymerase chain reaction (qRT-PCR). PRRSV was detected in oral fluids at DPI 1 and all oral fluid specimens were PRRSV qRT-PCR positive at DPI 4. Although PRRSV was detected in both serum and oral fluid specimens through DPI 21, a comparison of matched samples from individual boars showed that oral fluid was equal to serum for the detection of PRRSV at DPI 7 and more likely to be positive than serum on DPI 14 and 21. Overall, oral fluid was superior to serum for the detection of PRRSV using PCR over the 21 day observation period in this study. The results of this experiment suggest that individually-penned oral fluid sampling could be an efficient, cost-effective approach to PRRSV surveillance in boar studs and other swine populations.
Subject Categories
Copyright
Fri Jan 01 00:00:00 UTC 2010
Collections