The Engineering Problems And Programming Course On The Web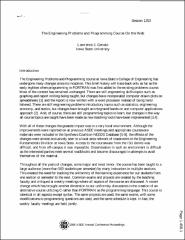 Department
Materials Science and Engineering
Abstract
The Engineering Problems and Programming course at Iowa State's College of Engineering has undergone many changes since its inception. This brief history will trace back only as far as the early eighties when programming in FORTRAN was first added to the existing problems course. Most of the content has remained unchanged. There are still engineering skills topics such as graphing and report writing being taught, but changes have incorporated computer drawn plots on spreadsheets [1] and the report is now written with a word processor instead of being hand lettered. There are still engineering problems introductory topics such as statistics, engineering economy, and statics, but changes have brought an integrated hands-on and computer applications approach [2]. And, of course, there are still programming topics to learn, but changes in the way all course topics are taught have been made as new teaching tools have been implemented [3,4].
With all of these changes the greatest impact was in a very local environment. Although the improvements were reported on at previous ASEE meetings and appropriate courseware materials were included in the Synthesis Coalition NEEDS Database [5-8], the effects of the changes were almost exclusively seen in a local-area-network of classrooms in the Engineering Fundamentals Division at Iowa State. Access to the courseware from the ISU dorms was difficult, and from off-campus it was impossible. Dissemination in such an environment is difficult as the interested parties meet several roadblocks and become discouraged in attempts to avail themselves of the material.
Throughout all the years of changes, some major and most minor, the course has been taught to a large audience (more than 500 students per semester) by many instructors in multiple sections. This created the need for tracking the uniformity of the learning experience for our students from one section or semester to the next. Common exams and projects are created by the teaching faculty and critiqued at weekly meetings where all aspects of the course are discussed. A recent change which has brought another dimension to our uniformity discussions is the creation of an alternative course utilizing C rather than FORTRAN as the programming language. This course is identical in all aspects except syntax. The same projects are used; the same exams, with some modifications to programming questions are used; and the same schedule is kept. In fact, the weekly faculty meetings are held jointly.
Comments
This is a conference proceeding from Proceedings of the ASEE Annual Conference (1996): 1. Posted with permission.
Subject Categories
Copyright
Mon Jan 01 00:00:00 UTC 1996
Collections