Parametric Studies of Thermographic Detection of Disbonds in Laminated Structures Using Computational Simulations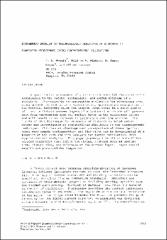 Series
Review of Progress in Quantitative Nondestructive Evaluation
Begun in 1973, the Review of Progress in Quantitative Nondestructive Evaluation (QNDE) is the premier international NDE meeting designed to provide an interface between research and early engineering through the presentation of current ideas and results focused on facilitating a rapid transfer to engineering development.
This site provides free, public access to papers presented at the annual QNDE conference between 1983 and 1999, and abstracts for papers presented at the conference since 2001.
Abstract
A quantitative assessment of a structure's material characteristics contributes to the safety, reliability, and useful lifetime of a structure. Thermographic nondestructive evaluation has advantages over other methods in that it is a noncontacting, quantitative measurement of the material integrity which can inspect large areas in a short period of time. A disbond between layers of a laminated structure will prevent heat from penetrating from the surface layer to the subsurface layers and will result in an increase in temperature over the disbond. The limits of this technique for detection of disbonds in solid rocket motors was investigated by computational simulation of the thermographic technique. This has an advantage over an experimental investigation, since many sample configurations and flaw sizes can be investigated at a fraction of the cost and time required for sample fabrication, data acquisition and analysis. This paper presents a series of simulations varying parameters that affect the thermal contrast such as heating time, disbond size, and thickness of the surface layer. Experimental results are presented for comparison.
Copyright
Mon Jan 01 00:00:00 UTC 1990
Collections