Damage Depth Estimation on a Fatigue Loaded Composite Structure using Thermography and Acoustic Emission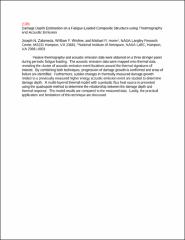 Series
Review of Progress in Quantitative Nondestructive Evaluation
Begun in 1973, the Review of Progress in Quantitative Nondestructive Evaluation (QNDE) is the premier international NDE meeting designed to provide an interface between research and early engineering through the presentation of current ideas and results focused on facilitating a rapid transfer to engineering development.
This site provides free, public access to papers presented at the annual QNDE conference between 1983 and 1999, and abstracts for papers presented at the conference since 2001.
Abstract
Passive thermography and acoustic emission data were obtained on a three stringer panel during periodic fatigue loading. The acoustic emission data were mapped onto thermal data, revealing the cluster of acoustic emission event locations around the thermal signatures of interest. By combining both techniques, progression of damage growth is confirmed and areas of failure are identified. Furthermore, sudden changes in thermally measured damage growth related to a previously measured higher energy acoustic emission event are studied to determine damage depth. A multi-layered thermal model with a periodic flux heat source is presented using the quadrupole method to determine the relationship between the damage depth and thermal response. The model results are compared to the measured data. Lastly, the practical application and limitations of this technique are discussed.
Subject Categories
Collections