Taking the lab on the road and bringing the road to the lab: On using mixed-methods and virtual reality to study a location-based task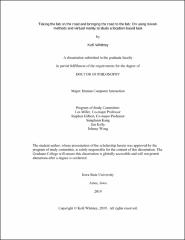 Advisor
Les Miller
Stephen Gilbert
Abstract
In earlier work, a lab and field study were employed to evaluate participants who used a digital map to complete a surveying task. The lab incorporated photos to simulate various scenarios within the task environment. It had a high degree of experimental control, strengths in quantitative data collection, and it could be easily replicated. Whereas the field study took place in the task's natural setting (a neighborhood); it afforded participants to navigate the environment on foot, which allowed for more ecologically valid task outcomes and rich qualitative data collection. The strengths of the lab method were desired, but the rich context and the ecological validity of the field study proved to be critical to outcomes.
In this research, three follow-up experiments were conducted. The first two field experiments explored differences in task outcomes between fieldworkers with high spatial visualization ability and low spatial visualization ability. Participants completed a series of surveying tasks using paper maps while navigating a neighborhood. The results indicated that task performance outcomes and behavior could be linked to participants' spatial visualization ability, their map usage patterns, and environmental factors.
In the third experiment, a VR lab was used to replicate a field experiment on the task as it was performed by digital map users. An approach is highlighted to recreate the task environment—a neighborhood that was large in extent—using an immersive virtual environment (IVE). Outcomes from the field are compared to those of the VR lab, which enabled participants to move through the simulated neighborhood using a hands-free interface. Using this approach, strengths of the lab method (i.e., its experimental control) are combined with the ecological validity afforded to natural setting research. The results indicate that real-world behaviors observed in the field—and some of the expected task performance outcomes—were also evident in the VR lab. Many of the findings corroborate those of the two prior field experiments. Comparisons made across experiments show that task outcomes were linked to participants' spatial visualization ability, their workflows, the street layout of the neighborhood, as well as the type of map used (i.e., paper vs. digital) and the styles of map use.
This methodology can be applied—in the field and in lab settings—to evaluate location-based tasks that involve pedestrian navigation and map use; it can also be used to assess and validate VR labs that are designed to replicate mobile HCI field studies by simulating real-world task environments.
Subject Categories
Copyright
Wed May 01 00:00:00 UTC 2019
Collections