Interrogating a Thin Layer of Heterogeneity with Confocal Transducers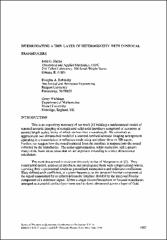 Series
Review of Progress in Quantitative Nondestructive Evaluation
Begun in 1973, the Review of Progress in Quantitative Nondestructive Evaluation (QNDE) is the premier international NDE meeting designed to provide an interface between research and early engineering through the presentation of current ideas and results focused on facilitating a rapid transfer to engineering development.
This site provides free, public access to papers presented at the annual QNDE conference between 1983 and 1999, and abstracts for papers presented at the conference since 2001.
Abstract
This is an expository summary of our work [1] building a mathematical model of scanned acoustic imaging of complicated solid-solid interfaces comprised of scatterers at several length scales, many of which are less than a wavelength. We construct an approximate two dimensional model of a scanned confocal acoustic imaging arrangement operating in a transmission or reflection mode using anti-plane shear or SH waves. Further, we suggest how the sound scattered from the interface is mapped into the sound collected by the transducers. The scalar approximation, while restrictive, still captures many of the basic ideas, ideas that we are at present extending to a three dimensional calculation.
Subject Categories
Copyright
Mon Jan 01 00:00:00 UTC 1996
Collections