Reflectivity Measurements at the Interface of Two Bonded Solid Halfspaces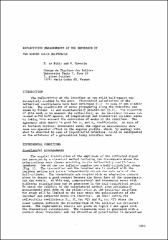 Series
Review of Progress in Quantitative Nondestructive Evaluation
Begun in 1973, the Review of Progress in Quantitative Nondestructive Evaluation (QNDE) is the premier international NDE meeting designed to provide an interface between research and early engineering through the presentation of current ideas and results focused on facilitating a rapid transfer to engineering development.
This site provides free, public access to papers presented at the annual QNDE conference between 1983 and 1999, and abstracts for papers presented at the conference since 2001.
Abstract
The reflectivity at the interface at two solid half-spaces was extensively studied in the past. Theoretical calculations of the reflection coefficients have been developed [1–3] in case of two elastic solids. The possibility of waves propagating along the interface was shown by Pilant [4] and experimentally pointed out [5,6]. The objective of this work is to measure the reflectivity at the interface between two bonded solid half-spaces, of longitudinal and transversal incident waves by taking into account the conversion of modes at the interface. The agreement with theory is good forS 11 and S hh coefficients. In case of an incident vertical transverse waves the reported measurements show some non-specular effect in the angular profile, which, by analogy with what is observed in case of liquid-solid interface, could be interpreted as the existence of a generalized leaky interface wave.
Copyright
Sun Jan 01 00:00:00 UTC 1989
Collections